iphone 12 – Volonic Valet 3 Is a Wireless Charger for the Rich and Famous

At $750, this configuration of the Volonic Valet 3 wireless charger is the most expensive accessory I've ever laid on my nightstand. The option to add leather on the top pad, instead of Alcantara, would have bumped the total up to $815. It may be unobtainable for the average consumer, but Volonic is unapologetically going after people looking for the most premium experience, regardless of price concerns. Beyond the high-end materials themselves, the Valet 3 uses Aira's FreePower technology, which allows a device to be set down anywhere on the charging pad, not just on predefined spots. It doesn't justify the price, but it's an extremely nice detail for people who have been frustrated by Qi charging misalignment issues in the past.
I went hands-on with a Volonic Valet 3 to see what the experience was like. Is a wireless phone charger that costs this much, or more than an iPhone, really needed?
Volonic Valet 3 Price
The good news is that not all Volonic Valet 3 variations cost as much as the $750 one I tried. The bad news is that the lowest-priced option is still $585. It's a hard number to get past, for good reason. Even other premium wireless chargers from Courant and Native Union only go as far as $175 and $199, respectively.
"While we understand the price point may not be accessible for a more general consumer audience, our aim is to create beautifully and meticulously crafted pieces of art that change the way technology is imagined," said Shawn Dougherty, founder and CEO of Volonic.
There's no question that if the price is a concern here, this probably isn't a product destined for your room. Still, it is delightfully sophisticated looking in person, and the materials make it radiate luxurious vibes.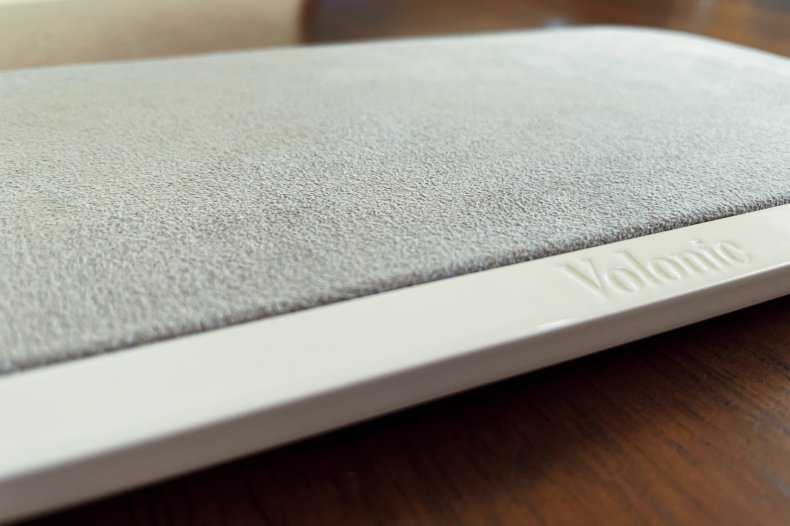 There is a customize-design option on Volonic's site that allows you to select the finish, colors and materials of different parts of the Valet 3. There are plenty of choices, but the general selections aren't unlimited. I have tried Nomad's Base Station, which has a leather pad on top, so I decided to try the Alcantara material on the Valet 3. It's soft to the touch and gives off an elegant feel.
Even more tempting than the look or style of this charger is the technology lurking beneath the surface.
Premium Wireless Charging
Under the leather or Alcantara is the truly interesting part of the Valet 3—a more flexible wireless charger. The Valet 3 is powered by FreePower from Aira.
Up until now, Qi charging works via your placing a device with an embedded charging coil directly on top of a charger with another coil. If those two aren't aligned precisely then power won't transfer. To combat this limitation, Aira created a charging grid that links a bunch of coils (18 to be specific) in order to create a much larger, flexible surface area for charging to take place.
In order to create this type of flexible design, Aira CEO Jake Slatnick said the company made the decision to build the whole thing from the ground up, instead of relying on Qi's single-coil standard foundation.
"We engineered the coil structure, power electronics, and controlling firmware, providing a complete hardware and software module that seamlessly integrates into our partners' products," said Slatnick. The result is a truly convenient wireless charging solution which can be built into products like the Valet 3, but also into center consoles in vehicles, table tops and desks, furniture, and more."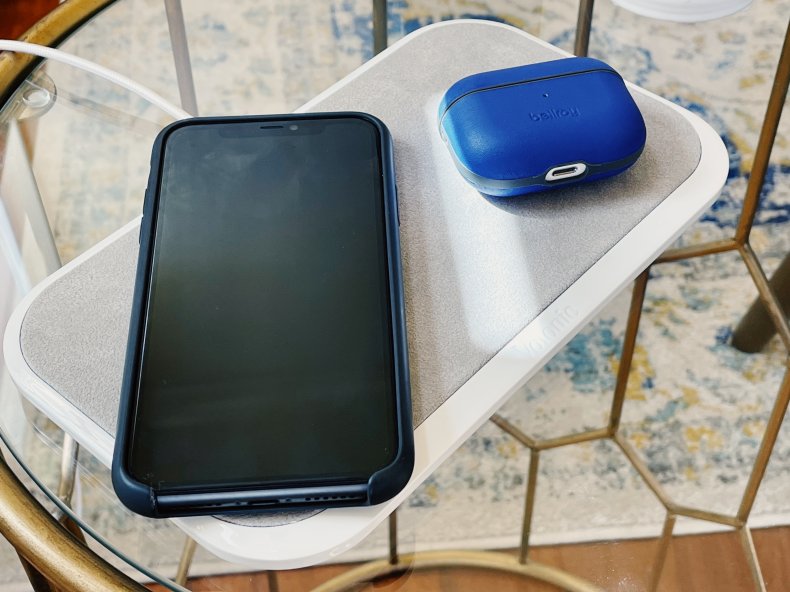 In practice, FreePower does work as shown, and the illusion of one large area for charging is convincing. However, anyone scrutinizing it will notice a few areas that are less than magical. For example, it can take up to 5 seconds for the Valet 3 to register where a device is placed and begin charging. If you slide a phone from one side to the other, it can stop and restart charging as it reevaluates where the power should be distributed.
While the placement of devices on the pad doesn't matter, physical size will dictate that there's only room for two, maybe three, phones. Volonic lists charging up to three devices on its site. For example, you will likely be able to fit a phone and two sets of earbuds with wireless charging cases.
Volonic notes 22.5 watts total charging speed for the Valet 3. That may sound fast, but that's for three devices, which comes to 7.5 watts each.
Even with all those qualifications, the technology is fascinating.
I have been burned by misalignment on wireless chargers. But with the Valet 3 it was easy to become cavalier in setting my phone down on the charging pad. It's also nice to not have to get too detailed with people uninitiated on wireless charging. A simple "Place your phone on there" will do.
While the Valet 3 seemed to work just fine during the day, charging for minutes or hours at a time, an issue presented itself to me with overnight charging. Over the course of a week, I woke up each day to my iPhone 12 Pro not being completely charged—ending somewhere between 70 and 80 percent.
The phone was fully on the main surface, so it wasn't an alignment issue. I used the included USB-C cable and power adapter and tried multiple outlets just as a precaution. My first thought was that iOS 14's ability to learn your overnight charging habits and control the charging schedule was messing with something from the charger. I turned that software setting off, but the results didn't change. I talked to Aira about the issue, but there was nothing conclusive determined.
In an effort to troubleshoot the issue more, I placed an Android phone on the charger, and it was able to reach 100 percent, even if it did take close to 7 hours. So after more research and talking to industry people, it seems like my faulty charging experience may have something to do with MagSafe magnets in iPhone 12. The kicker here is that I haven't experienced the same problem with less-smart (less expensive) wireless chargers and iPhone 12.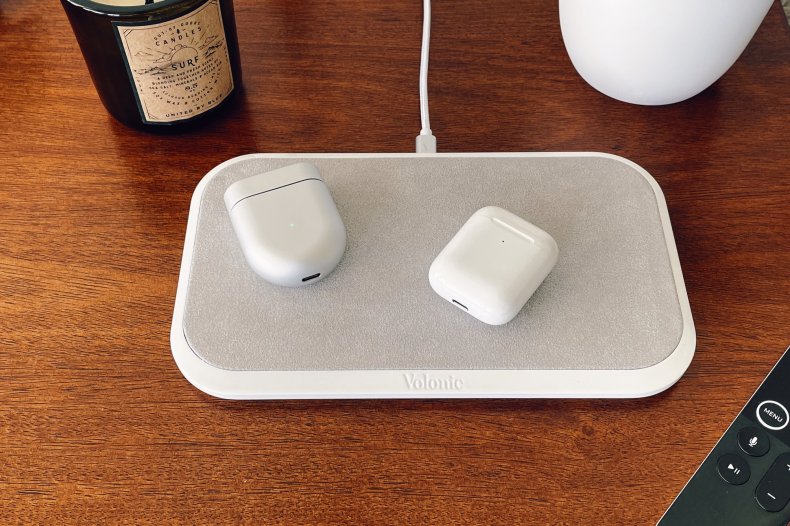 Should You Buy a Volonic Valet 3?
The Valet 3 is an experience. The functionality of laying your phone down haphazardly could be addicting, in the same way that new convenience is stimulating.
But does that add up to its $585 to $815 cost? It's a lot of money. For comparison, a new iPhone 12 retails for $799—and the Valet 3 may not even work great with the latest iPhones. Other wireless chargers' cracking the $150 mark can be a bit hard to justify too, in my opinion. So really, at this point, the Valet 3 could cost $2,000, and it wouldn't matter. Volonic is trying to sell something more than a single, physical product here.
You'll know if the Valet 3 is for you if the finer, customizable, materials spark interest and its ease of use makes it compelling, but no other considerations come to mind.
Buy at Volonic.
Newsweek may earn a commission from links on this page, but we only recommend products we back. We participate in various affiliate marketing programs, which means we may get paid commissions on editorially chosen products purchased through our links to retailer sites.
iphone 12 – Volonic Valet 3 Is a Wireless Charger for the Rich and Famous

Tags: iphone 12

Mobile: iPhone, Xiaomi

More News