iPhone – Guy got a tattoo on his face for iPhone 12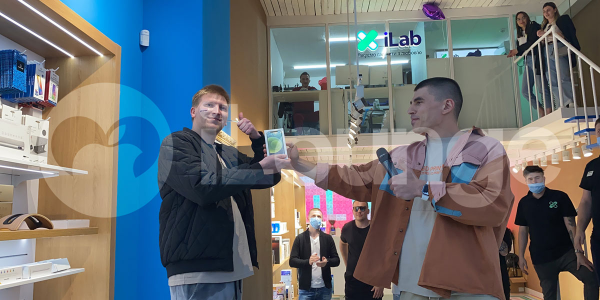 In Kyiv, a guy named Vadim Porodko got a tattoo on his face and won an iPhone 12! It's a TRUE tattoo and a true Apple iPhone 12! 
While most of the Apple fanbase is focused on the newly announced iOS 15 and macOS Monterey. A company from Ukraine opened its accessories store by giving an iPhone 12 for a tattoo. This company is iLounge from Kyiv (Ukraine), with 10 years experience in Apple accessories sales. All these years, the team dreamed of creating their small Apple Store in Kiev. And they got it!
At the opening of their store with Apple accessories in Kyiv people carried out an unusual action. Anyone could get a tattoo on their body and get an iPhone 12, HomePod mini and Apple AirTag! Vadim Porodko got a tattoo on his face and won an iPhone 12! And also he got VIP-client status in this store. Now the guy works in their store.
In total, nine people got a tattoo with the company logo. Eight of them received a mini homepod. Apple's smart speaker could be obtained for a tattoo on an arm, leg, or any other prominent part of the body.
Only Vadim had the tattoo on his face, so he alone won the iPhone 12. Interestingly, after the campaign on Instagram, companies began to write to other people who also wanted to get a tattoo on their face and get an iPhone.
All popular publications in Ukraine and the CIS have written about this news. That's how the guy got a tattoo, and got an iPhone 12, a job and popularity all over the world! People were shocked by the man's act.

This is how an unusual and cozy Apple technology accessories store opened in Ukraine. It is very strange what people are ready to go to in order to get a new gadget from a world-famous company. Interesting, are Apple heard about this and what Tim Cook would say upon learning about Vadim's rather brave or stupid act.

Original full press release:
https://ilounge.ua/review/magazin-v-kieve 
Media Contact
Company Name: ILounge
Contact Person: Kateryna
Email: Send Email
Country: Ukraine
Website: https://ilounge.ua/
iPhone – Guy got a tattoo on his face for iPhone 12

Tags: iPhone