xbox Series X – All-Access Deep Dive Reveals Mode's Latest Additions

One of the popular modes in the EA Madden franchise has been Ultimate Team. The mode involves putting together a fantasy roster of star players, team favorites, and legends. Gamers can then buy packs, play challenges or games, and upgrade their rosters accordingly. Based on a Madden 22 Ultimate Team features preview, the new game will have several changes coming at launch.
Deep Dive video previews Madden 22 Ultimate Team features
As EA prepares for the launch of their Madden NFL 22 game, we've seen all sorts of teases, previews, and deep-dive videos about the football sim title. That includes a recent All Access Deep Dive video in which they presented a look at Madden 22 Ultimate Team features.
Kevin Bailey, Madden Ultimate Team producer, narrated the video, which clocks in under two minutes. He quickly gets into the brand new features coming to the game at launch.
They'll include new strategy items, new halftime adjustments, new stats on player items, and a new MUT Hub. There's also Dynamic Gameday integration in this mode, but unfortunately, it's only for gamers playing on Playstation 5 or Xbox Series X/S consoles.
New Strategy Items change up the Chemistry system
For Strategy Items, Bailey mentions they've "refined what you know as the Chemistry system." This is basically where gamers can boost the players on their MUT rosters with Training points.
Examples included giving multiple players on offense the West Coast chemistry or defenders a Lockdown D chemistry. Once a certain number of players were assigned that Chemistry, it would boost specific attributes.
The new items will apparently make it an "easier plug and play experience" for gamers trying to boost specific players on their MUT rosters. With the Strategy items, gamers will be able to boost an individual or a group of players.
They showed an example in the video of an Elite Passer item, which seems to boost the Short, Medium, and Deep Accuracy for players.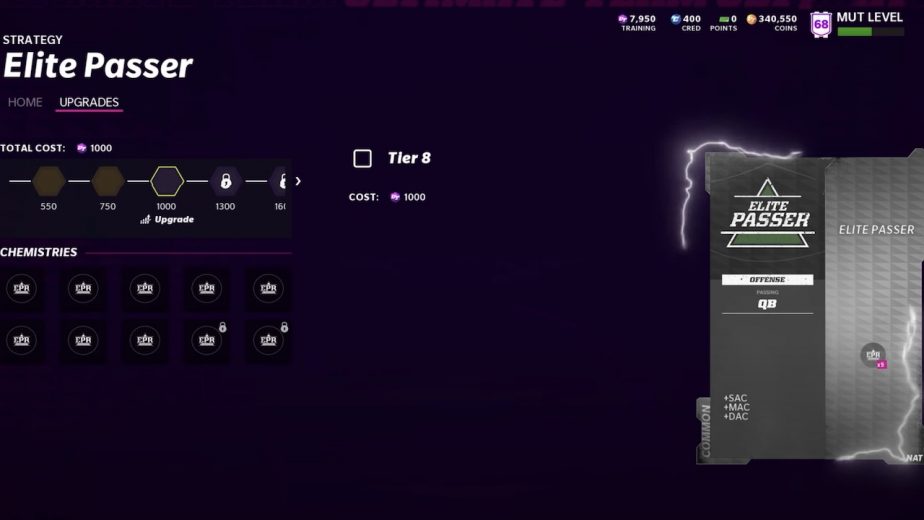 Bailey also mentioned, "multiple tiers and rarities" for these items. In the video, the Elite Passer is given a boost with 1,000 Training points. It appears similar to other player items where the Training cost rises with each Tier.
There will be separate items for Offense and Defense, as well as special items throughout the year.
Dynamic Gameday, Next-Gen stats, & Halftime Adjustments bring more to game
Based on the preview video above, Dynamic Gameday is part of the Madden 22 Ultimate Team Features. However, only the current-gen PlayStation 5 or Xbox Series X/S consoles will benefit from this. The previous generation consoles, PlayStation 4 and Xbox One, won't have it as part of the feature set.
With Next-Gen Stats, gamers will get to see the stats accumulated for each of their player items. Additionally, gamers will be able to see historic stats from previous player card owners.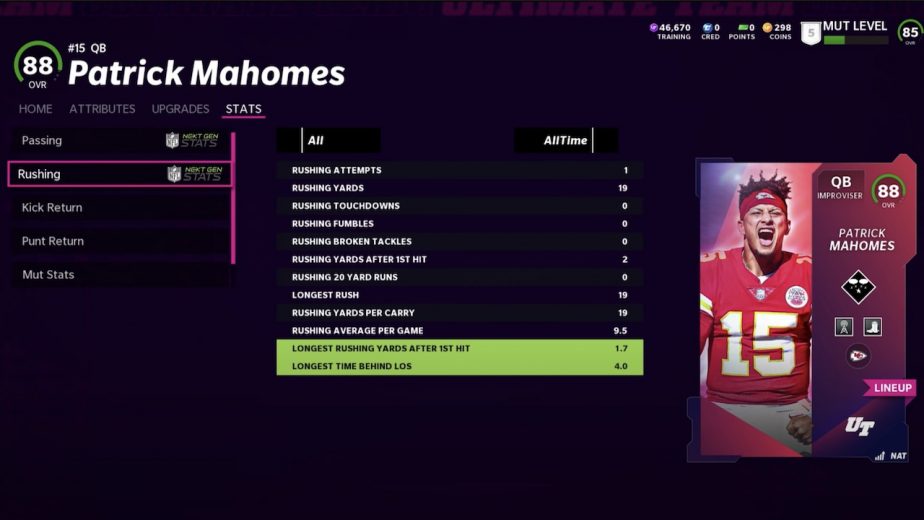 Last but not least is their mention of Halftime Adjustments. In previous Madden Ultimate Team modes, gamers could set up Superstar and X-Factor abilities before a game and hope for the best. Now it appears, gamers can adjust things at halftime, including which X-Factor or Superstar X-Factor abilities are active on players.
The video teased upcoming Gridiron Notes for the mode, too, and additional content updates in the coming weeks. As of this report, it's just under two weeks until the game drops.
Madden 22 arrives August 20, 2021, for PlayStation 4, PlayStation 5, Xbox One, Xbox Series X and Series S, Google Stadia, Microsoft Windows.
MVP and Dynasty edition pre-orders give gamers earlier access on August 17, while EA Play membership pre-orders get early access on August 12.
Visit VGR's Madden news page to see more of our stories about the game.


xbox Series X – All-Access Deep Dive Reveals Mode's Latest Additions

Tags: xbox Series X

Mobile: iPhone, Xiaomi

More News